Sportfishing Quadra Island
salmon fishing around Quadra Island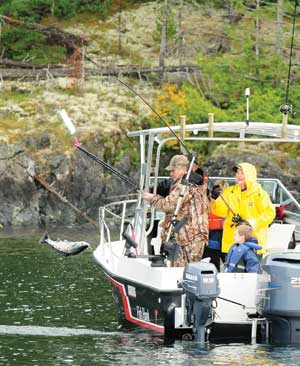 Salmon fishing is legendary around Quadra Island and nearby Campbell River. For decades Campbell River sold it's world-class fishing experiences as the 'Salmon Capital of the World'. Now sadly the realities of habitat decline and over-fishing have reduced the once glorious runs of silver-streaked salmon to a fraction of their historic numbers.
The fisheries are carefully managed and although controversial there have been some good runs in recent years particularly the Chinook (spring) and Pink salmon in 2009. Wild coho are closed to fishing in the Campbell River area and sockeye openings are announcedif and when theya re permitted. For a complete look at fishery openings and closures visit the Federal Department of Fisheries and Oceans web site for details.
Local guides offer daily fishing charters to the hot spots and lodges have accommodation and fishing packages. Inquire with the properties directly for details.
There's no greater thrill than 'locking' into a Tyee salmon and playing one of these magnificent fish.
Salmon Fishing Charters and Guides
AG-Fish Enterprises specializes in saltwater salmon fishing charters in and around Quadra Island. A short 15-45 minute cruise from the Quadra Island dock puts you in the middle of some of the best salmon fishing action. The whole area is surrounded by breathtaking coastal scenery and an abundance of wildlife. Our boat is 23 feet covered cruiser, offering on-board toilet and the best equipment on the market. Join us for the fishing adventure of a lifetime. For more information, please visit our website>.
Phone:250 285 2770
Fax: 250 285 2778
eMail:mail@agfish.net
We offer world class salmon fishing from Quadra Island. The waters surrounding Quadra are known as the Salmon Capital of the World. All five species of salmon can be caught from May thru October, with an excellent run of migrating Chinook salmon. This makes a perfect environment for a successful fishing trip. You will fish in comfort out of a 24ft covered cruiser with marine head (toilet). Your charter includes all fishing gear, bait, foul weather gear, and the cleaning and bagging of your catch. We are highly experienced and fully licensed and insured. We also offer fresh water fishing for trout, salmon, and steelhead. You may fly or gear fish from a raft on the pristine rivers of Vancouver Island. Boonie Charters is dedicated to making your Island fishing experience the trip of a lifetime.
For Inquiries call toll free 1-855-783-7738
or eMail: sonny@booniecharters.com
Sutil Charters is a year-round fishing & sightseeing charter company. Providing water taxi services throughout the Discovery Islands area. Based out of Heriot Bay, Quadra Island. Call Ed Jordan.
1442 Schooner Rd. Box 82, Heriot Bay, BC V0P 1H0
Ph: 250 285-3689