Rock Climbing around Quadra Island
seaside crags and mountainside walls
Granite Bay Area
Clear Lake Crag
A steep granite wall northeast of Clear Lake 50°14'17.84"N 125°14'26.40"W not much is known but it is steep and it is granite so why not? Well maybe because it's pretty broken up but stay tuned, we're going to have a look and see if it's worth the effort...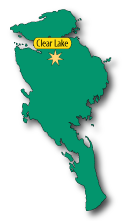 Access: This crag is right above the logging road that runs east from the north side of the bridge over Granite Creek in downtown Granite Bay past the north side of 2 Mile Lake. The road also accesses the Newton Lake trail and can be used to get into the north side of Main Lake.
From Granite Bay drive east on the road for 5km to the junction with the old road down to Main Lake beside an open bog. The crag is visible up on the hillside to the north.

---
Kanish Bay
Granite Point
At the far northwest corner of Quadra Island is Granite Point (50°16'40.32"N 125°22'59.00"W). The name alone should pique the interest of marine climbers! Sure enough there are a collection of small but quite excellent crags along the shoreline around the point. And what a stunning setting it is jutting out into Discovery Passage pointing toward the summer setting sun. It's possible to see whales, dolphins, eagles and all sorts of marine wildlife here as well as some interesting ships plying their way to and from Alaska on the Inside Passage so keep your eyes peeled and don't forget to pack a fishing rod (and license)
The rock is clean and weathered. There's a little black lichen of course so a wire brush is a good idea to polish things up a bit and to unearth a new route or two.
Access is only by water, the closest road-accessible put-in and boat ramp is at the dock at Granite Bay, a 30 minute drive from Quathiaski Cove. A powerboat would make short work of the 4 nautical miles (7km) to Granite Point but kayakers will need about an hour to an hour and a half. Kanish Bay faces northwest and in summertime it's not uncommon for a stiff headwind to blow in off Discovery Passage.
There is a very small, fairly-protected cove right at Granite Point that is perfect for mooring a small craft and a boulder beach in the back of the cove suitable, but a little rocky, for hauling out kayaks.
Camping is possible around the shoreline of Kanish Bay. Look for sites in the coves and even right at the base of the crag, on a mossy terrace, at Granite Point. Be sure to bring enough freshwater for your trip, although during much of the year there are a few creeks accessible from the ocean.
Other highlights in the area are the Chained Islets on the south side of Kanish Bay and Small Inlet Provincial Marine Park.
Just one route has been cleaned here but it is a very nice 5.8 right up the middle of the crag. Along the base of the crag is a smart little boulder traverse too. Definitely potential for more lines as the photo above shows.
Nixon Cove
Nixon Cove is hard to miss with its beautiful overhaning, white granite leaning over the deep, dark water at the northwest end of Kanish Bay 50°16'29.78"N 125°22'38.73"W.
Nixon Cove has potential for some very challenging climbing.
More information coming soon